Georgia Gardener Newsletter Cool Plant: November 13, 2008
American Beautyberry
Callicarpa americana
Need design help?
Or help "drought-scaping?"
Check out our Design Services.

We're also offering a 10% discount
for November & December Appointments

Species Native Range: Eastern U.S.
Hardiness: USDA Zones 6-10
Mature Size: 4-8 feet tall and wide
Exposure: Sun to partial shade
Soil: Loose, organic and well-drained
Drought Tolerance: Excellent
Ease of Culture: Easy

If you enjoy gardening for wildlife, especially birds, the beautyberry is a must for your garden. During the spring and summer months, beautyberry is an arching somewhat average looking shrub. In the fall the plant produces pea-sized bright magenta berries in tight clusters along the stems at the base of the leaves*. Birds absolutely love this plant and will strip the berries especially after the leaves drop.

There are several species and a few cultivars of beautyberry. Unfortunately, many of those found in the nurseries are the Asiatic species which can be invasive. It is easy to tell the native versus the non-native particularly when the plants have berries:

*The native species has slightly larger berries that are more lavender in color. They are also clustered tightly against the branches around the base of the leaves (see below). The non-native species have smaller berries that are slightly more blue in color. Their berries are clustered away from the branches at the ends of very small stems. Always read the plant tag. Only Callicarpa americana is native to the U.S.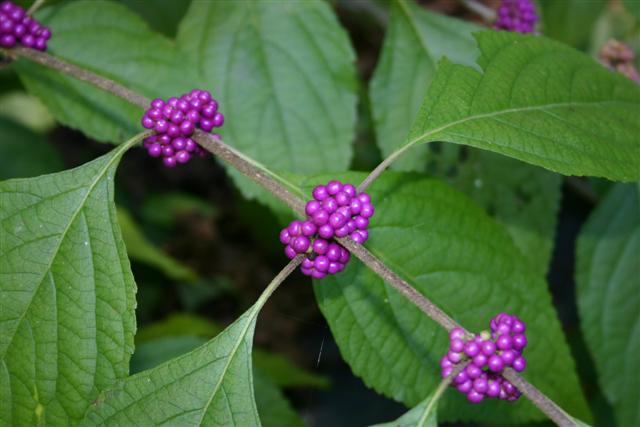 The tightly clustered berries of the native beautyberry

Beautyberry is very easy to grow and tolerates a wide range of conditions, including dry soil in full sun. However, it prefers an organic well-drained soil in light to partial shade. Beautyberry can be pruned back to 1 foot tall after the berries are gone in the winter as it blooms on new growth. Hard pruning will help to keep the shrub more compact.

Grow beautyberry in a wildlife or natural garden, at the edge of woods or meadows. Good part shade companion plants include fothergilla, native azaleas, rhododendrons, Virginia sweetspire and clethra. Good sun companions include roses, muhly grass, swamp sunflower and late-season salvias.


Sources
The native beautyberry may be more of a challenge to find but is offered by several nurseries that specilize in native plants or mail order.

Mellow Marsh Farm: mail order
Sunlight Gardens: mail order
Nearly Native Nursery: Fayetteville
Georgia Native Plant Society Nursery Listing





Copyright © 2008 by Theresa Schrum - All rights reserved
No part of this website may be reproduced without the expressed written permission of Theresa Schrum