Georgia Gardener Newsletter Cool Plant: November 1, 2007
October Glory Maple
Acer rubrum 'October Glory'



Species Native Range: Eastern half of the U.S.
Hardiness: USDA Zones 4-9
Mature Size: 40-50 feet tall and wide
Exposure: Full sun to light shade
Soil: Wet to dry
Ease of Culture: Easy

October Glory is a selection of our native red maple that was chosen for its reliably consistent brilliant crimson fall color. Other features include a well-rounded crown, fairly rapid growth, few pests and good tolerance for less than ideal soil conditions. These traits make it a fairly popular tree for residential and commercial landscapes.

Grow October Glory Maple as a specimen tree or massed together for an impressive fall display (although mixing it with other trees for a spectrum of fall colors is also nice). Make sure to site the plant in a location where it will be able to achieve its full size. This is not a suitable tree to be planted underneath or near overhead power lines.

Grow OGM in full sun to light shade. Growth and fall color will be better in full sun. As far as soil is concerned, I've seen this tree tolerate both compacted dry soil and areas with wet to poorly draining soil.

Good companion trees for fall color include: Ginkgo, Dogwood, Hickory and Sassafras. OGM can be used as a shade tree with various shade-tolerant shrubs and perennials planted beneath it.


Planting During this D@#* Drought!
Although we are currently on a mandatory ban for all outdoor watering (with some minor exemptions), it's still possible to install new plants. If you have plants installed by a professional landscaping company you have upwards of 30 days to water your new plants (variations exist, contact your local water company). Self-installed landscapes do not qualify for the exemption.

However.....

Gray water from your shower, a/c unit, rain barrel, dishwasher or washing machine can be used. To install new plants, fill a 5-gallon bucket (or larger, if needed) with gray water to a depth that will be above the top of the plant's container. Place the new plant (while still in the nursery pot) into the bucket. Allow the semi-submerged plant to remain there for several minutes. Remove the drenched plant from the bucket and plant in soil that is well-amended with organic material (compost, soil conditioner, etc.) and use the gray water to irrigate after planting. Add a 2-3 inch layer of organic mulch (pine straw, shredded hardwood, shredded leaves, etc.) after planting. Apply one or more gallons of gray water to your plants once each week until we get our first hard frost. For evergreen plants, continue to water through the winter in the absence of rain.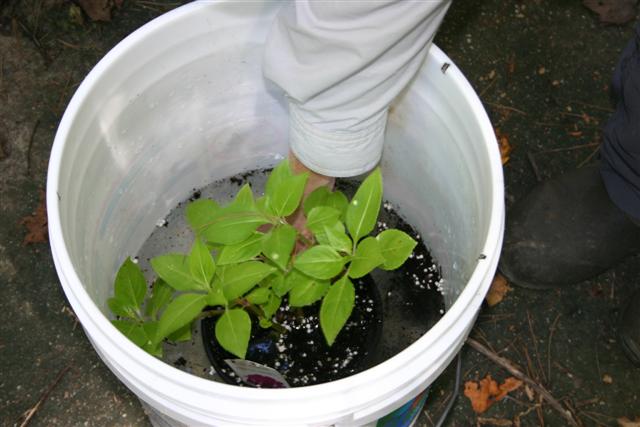 Soak new plants in gray water before planting
Sources:
This plant is readily available at most retail nurseries.




Copyright © 2007 by Theresa Schrum - All rights reserved
No part of this website may be reproduced without the expressed written permission of Theresa Schrum