Georgia Gardener Newsletter Cool Plant: October 18, 2007
Autumn Joy Stonecrop (Sedum)
Sedum X 'Herbstfreude' or 'Autumn Joy'



Species Native Range: Hybrid of garden origin (Asian parents)
Hardiness: USDA Zones 4-9
Mature Size: 24 inches tall and wide
Exposure: Full sun
Soil: Well-drained or sandy
Ease of Culture: Easy

Drought! What drought? Like most succulents, Autumn Joy Sedum is not phased by a lack of rain. In fact, if you water it too much it will often flop over from the center leaving a gaping hole.

From early fall until first frost, Autumn Joy Sedum will produce broccoli-like heads of small dark pink flowers atop thick succulent green leaves. The flowers will darken as they age finally becoming a dark brick red around the time of our first frost. These flowers are very attractive to butterflies and other pollinators and provide a needed source of late season nectar.

Grow AJS in full sun in well-drained or sandy soil in a perennial bed or mixed shrub border. Good companion plants include: Mums, Asters, Purple Muhly Grass, Gold Mop False Cypress, Variegated Yucca, Pansies, Ornamental Cabbage/Kale, Swiss Chard, Setcreasea, etc. Prune AJS to the ground after the first hard frost. Divide if needed in the early spring and fertilize when new growth appears.

Note: Autumn Joy Sedum is often eaten by deer.


Planting During this D@#* Drought!
Although we are currently on a mandatory ban for all outdoor watering (with some minor exemptions), it's still possible to install new plants. If you have plants installed by a professional landscaping company you have upwards of 30 days to water your new plants (variations exist, contact your local water company). Self-installed landscapes do not qualify for the exemption.

However.....

Gray water from your shower, a/c unit, rain barrel, dishwasher or washing machine can be used. To install new plants, fill a 5-gallon bucket (or larger, if needed) with gray water to a depth that will be above the top of the plant's container. Place the new plant (while still in the nursery pot) into the bucket. Allow the semi-submerged plant to remain there for several minutes. Remove the drenched plant from the bucket and plant in soil that is well-amended with organic material (compost, soil conditioner, etc.) and use the gray water to irrigate after planting. Add a 2-3 inch layer of organic mulch (pine straw, shredded hardwood, shredded leaves, etc.) after planting. Apply one or more gallons of gray water to your plants once each week until we get our first hard frost. For evergreen plants, continue to water through the winter in the absence of rain.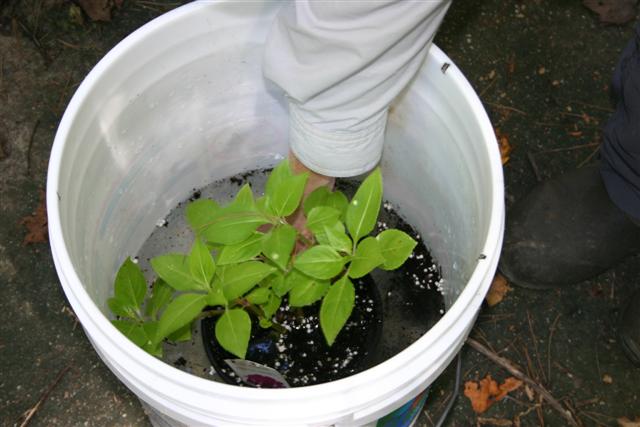 Soak new plants in gray water before planting
Sources:
This plant is readily available at most retail nurseries.




Copyright © 2007 by Theresa Schrum - All rights reserved
No part of this website may be reproduced without the expressed written permission of Theresa Schrum