Georgia Gardener Newsletter Cool Plant: July 24, 2008
Blazing Star
Liatris spicata
Need garden help?
Check out our Services.

Species Native Range: Eastern U.S. and Canada
Hardiness: USDA Zones (3)4-10
Mature Size: 18-24 inches tall and wide, flower stalks to 36 inches
Exposure: Full sun to light shade
Soil: Well-drained
Drought Tolerance: Excellent
Ease of Culture: Easy

Blazing star, aka gayfeather, is a native perennial that can often be seen growing wild on roadsides throughout the eastern half of the United States. The thin bladed foliage is similar in appearance to that of society garlic or some daylily varieties. In mid summer, flower stalks upwards of 3 feet tall produce bright purple (or white) tightly clustered flowers. These flowers are commonly used in floral arrangements.

Plant blazing star in full sun to light shade in well-drained soil. Flowering will be best in full sun. In poorly draining and compacted soils, the bulbous roots may rot especially in years with abundant rainfall (LOL). Once established, blazing star is extremely drought tolerant. It's also deer and rabbit resistant.

Grow blazing star in a perennial bed, cottage or cutting garden, wildflower meadow or native plant garden. Because of the upright habit of its flower stalks, blazing star blends well with plants that have bold flat flowers such as coneflowers or shasta daisies.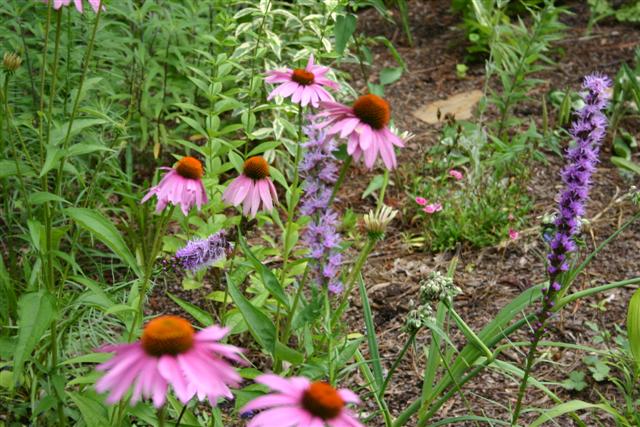 Other good companion plants include phlox, black-eyed Susans, greater tickseed (Coreopsis major) and other full sun, midsummer blooming perennials, annuals or shrubs.

This plant grows easily from seed reaching blooming size in approximately two years. It can also be dug and divided every few years in the early spring.


Sources
This plant is commonly found at many retail nursery locations.





Copyright © 2008 by Theresa Schrum - All rights reserved
No part of this website may be reproduced without the expressed written permission of Theresa Schrum