Georgia Gardener Newsletter Cool Plant: July 23, 2009
Tenor Phlox
Phlox paniculata 'Tenor'



Species Native Range: Eastern half of the U.S.
Hardiness: USDA Zones (3)4-8(9)
Mature Size: 24-36 inches tall; 18-24 inches wide
Exposure: Full sun to light shade
Soil: Rich, well-drained
Drought Tolerance: Very good
Ease of Culture: Easy

There are many varieties of tall garden phlox (P. paniculata) with a wide range of flower colors. The more common flower colors include blue/lavender, pink (all shades) and white. There are even several varieties with striped flowers. Needless to say, I love all varieties and species of phlox. They are among my favorite summer-blooming perennials.

Tenor phlox is uniquely different from other varieties of tall phlox in that it has bright red flowers. As with other varieties of tall phlox, flowers are borne in large trusses at the top of each plant from early to late summer especially if deadheaded. Plants may need to be staked occasionally. Flowers attract a wide variety of pollinators and the seeds are usually eaten by small birds. Prune the plants back to the ground after the first hard frost.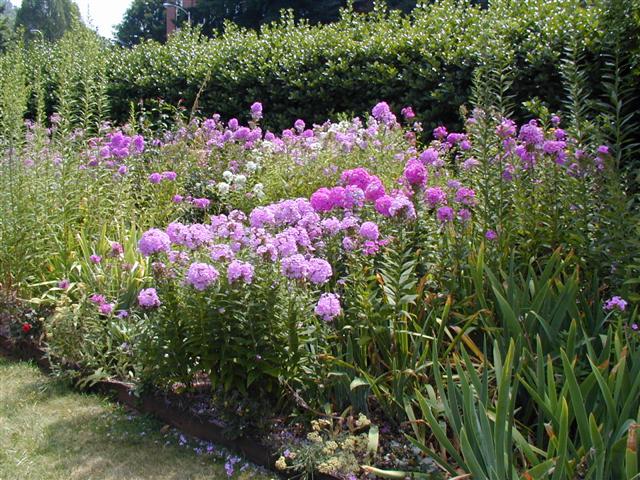 Bed of Mixed Tall Phlox


Grow tall garden phlox in full sun to light shade. Flowering will be better in full sun as will the plant's resistance to powdery mildew. The soil should be rich and high in organic matter and well-drained. Use Tenor phlox in a flower bed of mixed annuals and perennials, cottage garden, wildflower meadow or combined with other summer-flowering trees and shrubs. Good companion plants include: roses, daylilies, black-eyed susans, crape myrtles, etc.

Note: Deer and rabbits especially enjoy phlox, so be prepared to protect them.

Sources
Tenor phlox can be found locally in the spring and summer at retail nurseries and through numerous mail order catalogs. I purchased mine at the Grower's Outlet in Loganville.

Mail Order Sources:

Spring Hill Nursery
van Bourgondien
Nature Hills Nursery


If you have comments or questions about this article, please email me.





Copyright © 2009 by Theresa Schrum - All rights reserved
No part of this website may be reproduced without the expressed written permission of Theresa Schrum