Georgia Gardener Newsletter Cool Plant: June 25, 2009
Ornamental Onion
Allium spp.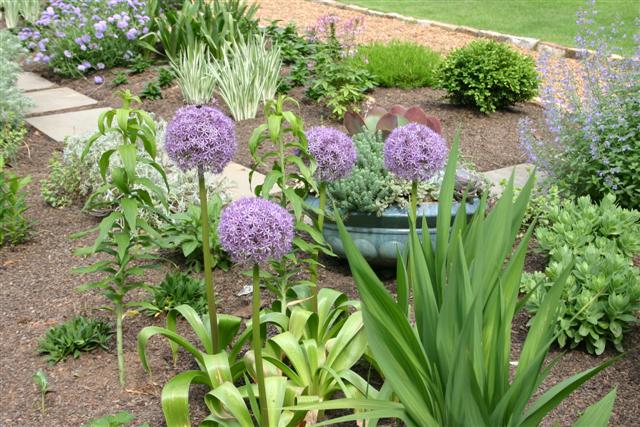 Allium giganteum


Species Native Range: Europe & Asia
Hardiness: USDA Zones 5-10
Mature Size: 2-3 feet tall & 2 feet wide
Exposure: Full sun
Soil: Loose, well-drained
Drought Tolerance: Excellent
Ease of Culture: Easy

Oddly beautiful, the ornamental onion with its ball of flowers is a great plant to add to the late spring/early summer garden. As with edible onions, they are grown from bulbs and if crushed an onion aroma. Wide, strap-like foliage add texture throughout the season. Flower colors range widely from blue/lavender to pink to white and even yellow.

Plant ornamental onion in full sun in loose, rich, organic soil that is well-drained. Poorly drained soil may lead to rotten bulbs. Plants can be dug and divided every few years. Cut back the flower stalks after bloom to maintain a tidy appearance.

Grow ornamental onions in a perennial border, herb garden or mixed with shrubs and annuals. Companion plants include catmint, lavender, sage, daylilies, roses, lantana, etc.

Suggestion: Having grown up in California, I've always been in love with Lily-of-the-Nile (Agapanthus) but I have been unsuccessful in growing these plants in Georgia. I now use ornamental onion as a substitute.

Sources
Ornamental onion can be found at many retail nurseries and on the web for mail order.





Copyright © 2009 by Theresa Schrum - All rights reserved
No part of this website may be reproduced without the expressed written permission of Theresa Schrum