Georgia Gardener Newsletter Design Tip: June 15, 2006
Xeriscaping: Gardening for Drought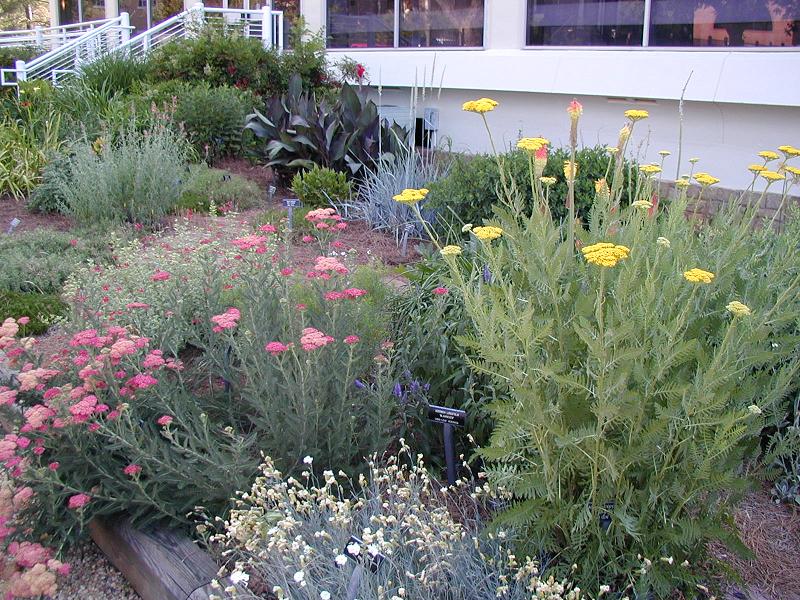 It's hot, it's dry and your landscape looks awful. Unless you want a water bill that rivals your mortgage (if your allowed to water at all), you'll need to make some changes.

There are some simple steps you can do to make your landscape less dependent upon water:

1. Reduce the amount of turf, especially thirsty turf like fescue.
2. Amend your soil with organic matter which holds moisture easily.
3. Group plants together by water needs.
4. Choose plants that can tolerate a wide range of moisture conditions.
5. Use a 2-3 inch layer of organic mulch.
6. Water deeply and only when necessary (preferrably only once a week).
7. Cut back on high Nitrogen fertilizers in dry weather.

Below are some suggestions for drought-tolerant plants. Remember that all plants, even those tolerant of drought, need to be in good soil and established before you can turn off the spigot.


Drought-tolerant Plants for Full Sun:
Trees: Ash, Bald Cypress, Crape Myrtle, Deodar Cedar, Eastern Red Cedar, American Holly, Ginkgo, Red Maple, Hawthorn, Oak, Pine, Pecan, Redbud, Tulip Poplar and Sweetgum.

Shrubs: Loropetalum, Abelia, Sumac, Beautyberry, Indian Hawthorn, Wax Myrtle, Juniper, Holly and Boxwood.

Perennials and Annuals: Aster, Butterfly Weed, Coreopsis, Dianthus, Lamb's Ears, Verbena, Purslane, Portulaca, Wine Cups, Evening Primrose, Goldenrod, Yarrow, Lavender, Artemisia, Sedum, Salvia, Ornamental Grasses and most Herbs.


Drought-tolerant Plants for Part Sun:
Trees: American Hornbeam, Silverbell, Sourwood, Redbud, Chalk Maple, Serviceberry and Hophornbeam.

Shrubs: Sweetspire, Sweetshrub, Aucuba, Boxwood, Beautyberry, Yew, Fothergilla, Witchhazel and Sarcococca.

Perennials and Annuals: Christmas Fern, Autumn Fern, Hellebores, Heuchera, Red Columbine, Green n Gold, Epimedium and Sedges.


Mandatory Outdoor Watering Restrictions
Statewide watering restrictions are in place and as of this date, are as follows:

Odd-numbered Addresses: Water on Tuesdays, Thursdays and Sundays.
Even-numbered Addresses: Water on Mondays, Wednesdays and Saturdays.
No outdoor watering is permitted on Fridays.

Some exemptions apply to commercial sites and new landscaping. Also, your county or local municipal water company may have tighter restrictions and you are encouraged to check with them.




Copyright © 2007 by Theresa Schrum - All rights reserved
No part of this website may be reproduced without the expressed written permission of Theresa Schrum