Georgia Gardener Newsletter Cool Plant: June 14, 2007
Phlox Volcanotm Series
Phlox paniculata


Species Native Range: Eastern half of the U.S.
Hardiness: USDA Zones 3-9
Mature Size: 2 feet tall and wide
Exposure: Full sun to light shade
Soil: Rich soil that is moist but well-drained
Ease of Culture: Easy

Tall phlox with all of its various cultivars is perhaps my favorite group of perennials with their large trusses of five-petaled flowers that come in a wide range of colors. The Volcano Series has been developed to not only expand the range of colors, but to also introduce a line of plants that are more compact and disease resistant than other phlox cultivars. The Volcano Series consists of the following cultivars: Volcano White (pictured above), Volcano Purple White Eye, Volcano Pink with Red (pictured above), Volcano Pink White Eye and Volcano Red.

The Volcano Series of tall phlox begins blooming in mid spring and will continue into the fall, especially if the spent flowers are removed. Both butterflies and hummingbirds are attracted to the flowers. The mature size of the plant is a neat and compact 2 feet tall and wide.

Plant tall phlox in full sun to very light shade, flowering is best in full sun. The soil should be rich in organic matter, loose, moist but well-drained. Phlox does not like being planted in compacted red clay that is poorly drained.

Mix the Volcano Series of tall phlox in a perennial bed, meadow or cottage garden with other sun-loving, summer bloomers such as black-eyed Susan, purple coneflower, Salvia, Autumn Joy sedum, etc. You can also use the Volcano Series of phlox in a rose garden combined with Knockout Roses and other repeat blooming shrub roses. Learn more.

Please note: All varieties of phlox are susceptible to deer and rabbit damage.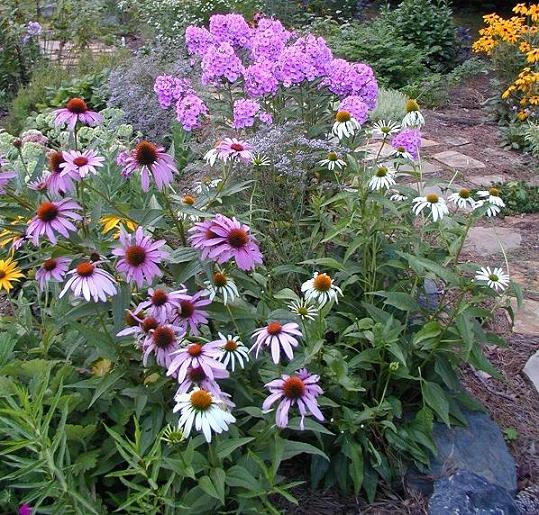 Sources:
Although I have seen this plant in the nursery or catalog listed below, I cannot guarantee that it will be available at the time this newsletter is published.

Pike Family Nurseries: mutliple locations
Randy's Perennials: Lawrenceville





Copyright © 2007 by Theresa Schrum - All rights reserved
No part of this website may be reproduced without the expressed written permission of Theresa Schrum