Plant Profile: Knock Out Rose
Rosa 'Radrazz'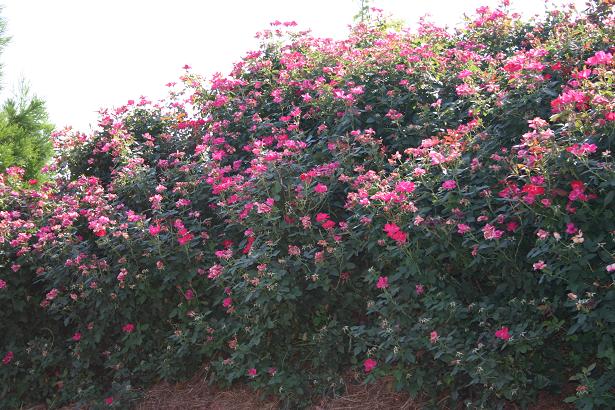 Growing roses in Georgia has often required gardeners to become proficient in chemical warfare. That was, until the Knock Out Rose came on the market in 2000. First field tested in Texas, the Knock Out Rose has proven to be one of the most disease and pest resistant roses ever available. Add to this its incredibly long bloom season (April - November), heat and drought resistance and you have practically the perfect rose. The picture above was taken earlier this week after more than a month of 90-100 degree temperatures and below average rainfall.

Knock Out Rose has clean foliage that rarely develops black spot or powdery mildew. It has good resistance to aphids and moderate resistance to Japanese beetles. Since the blooms are so profuse and open continuously, beetle damage is rarely noticeable.

In the fall, the foliage has a lovely orange color followed by attractive hips that persist into the winter. Mature size is 3-5 feet tall and wide. This is the perfect rose for the novice gardener.

Plant Knock Out Roses in full sun in rich organic soil that is well-drained. Because of the constant profuse blooming, feed Knock Out Roses every 4-6 weeks with a rose fertilizer during the growing season. Prune Knock Out Roses down to 12-18 inches tall in February or early March. Deadheading (removing spent flowers) is not necessary.

In the picture below, the Knock Out Roses are combined with New Gold Lantana and Blue Arrow Junipers in a raised bed at my daughter's school. This bed receives little to no maintenance during the summer months.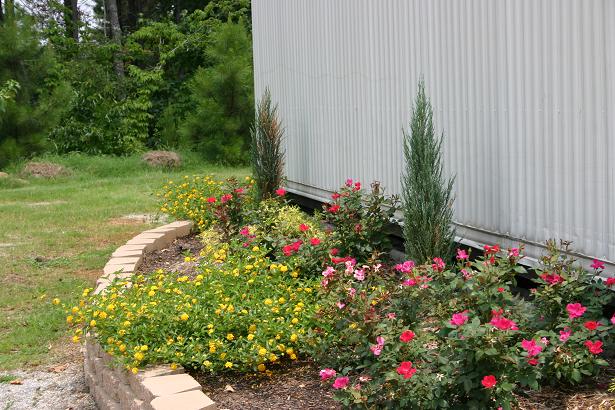 Copyright © 2013 by Theresa Schrum - All rights reserved
No part of this website may be reproduced without the expressed written permission of Theresa Schrum