Plant Profile: Lady in Red Fern
Athyrium filix-femina 'Lady In Red'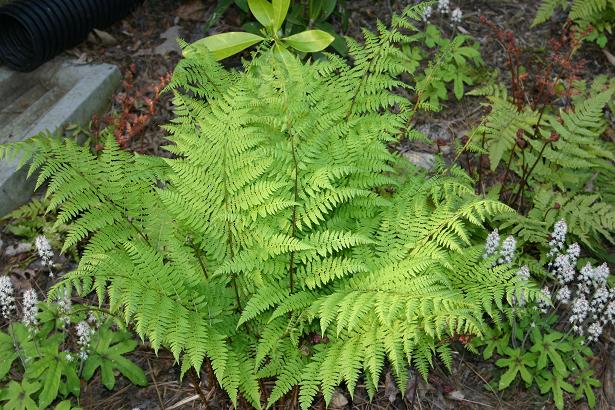 This cultivar of our native lady fern is an introduction from the New England Wildflower Society. Lady in Red differs from many wild lady ferns because of its deep red stipes (stems) found on each frond. These red stems contrast beautifully with its pale green, lacy foliage. Don't be fooled by the delicate appearance of this perennial fern, it's incredibly durable and in my experience, fairly deer resistant. Lady in Red's mature size is 18 inches tall spreading slowly to form a clump 24-30 inches across.

Grow Lady in Red fern in partial to full shade in highly organic soil that is moist, but not soggy. It will grow in average garden soil that is well-amended to help retain moisture. Although it's deciduous (dies back to the ground in the winter), it does make a nice shade container plant with evergreens or seasonal annuals.

Mix Lady in Red fern with other shade tolerant plants, such as hostas, hellebores or foam flower, as shown above. Two wonderful combinations are Lady in Red fern mixed with annual red variegated caladiums or with native perennial red columbines (Aquilegia canadensis), as shown below. The red from the companion plant enhances the red stems of the Lady in Red fern and vice versa.

Personal observation: I've noticed that the stem color of Lady in Red can vary based upon the plant's growing environment. I suspect that in colder climates or colder winters, the stems will be redder the following year.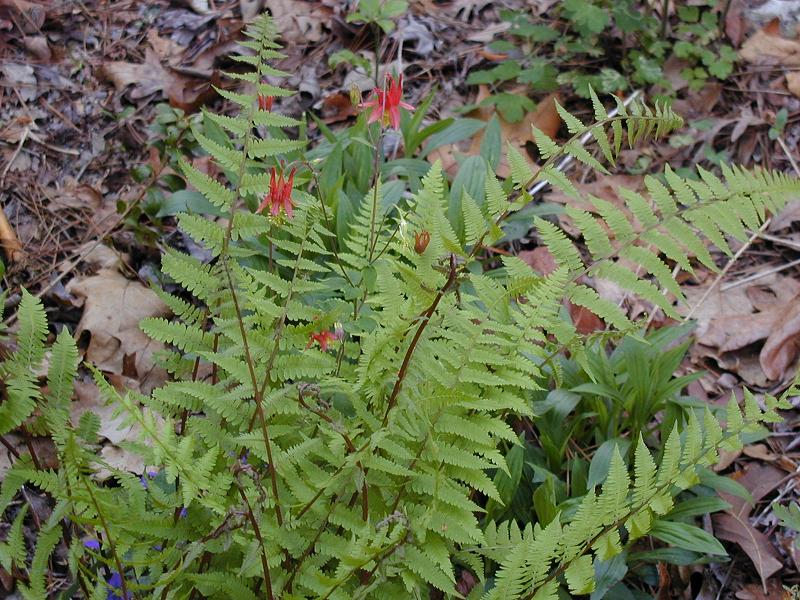 Copyright © 2013 by Theresa Schrum - All rights reserved
No part of this website may be reproduced without the expressed written permission of Theresa Schrum