| | |
| --- | --- |
| Pike's Pick for June 10, 2006 | |
Dooley Hydrangea
Hydrangea macrophylla 'Dooley'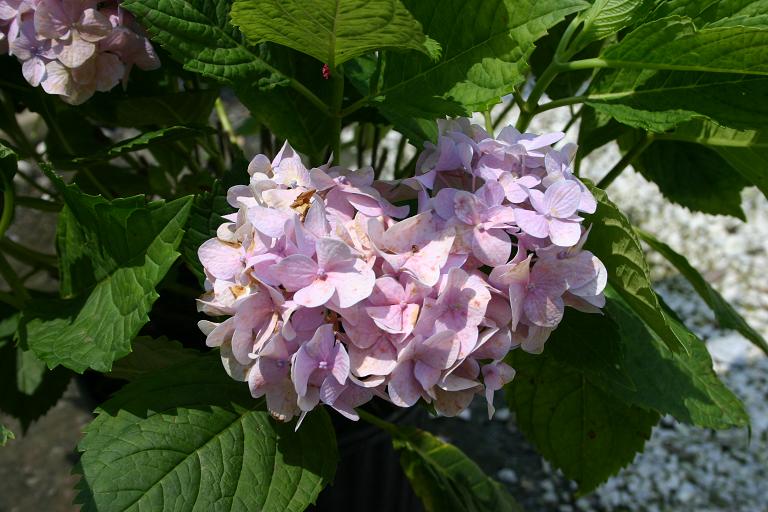 Click here to see a much better picture of the plant with blue flowers.

On sale this Saturday and Sunday (June 10th and 11th) for 20% off at your local Pike Family Nurseries with locations around metro Atlanta, Birmingham, Alabama and their newest location in Charlotte, North Carolina.

Another great introduction from plantsman Dr. Michael Dirr (formerly with UGA). The Dooley hydrangea, named for former UGA Athletic Director Vince Dooley, was a chance discovery growing in Vince Dooley's garden back in 1996 when a late season freeze caught all other French hydrangeas with their buds hanging out. Due to the fact that the Dooley hydrangea produces flowers on lateral buds, this gives it more cold tolerance than other similar hydrangeas. It's reported that in 1996, the Dooley hydrangea was practically the only blooming French hydrangea in Athens. The Dooley hydrangea will probably bloom well into zone 6 where older varieties of French hydrangeas would be repeatedly frozen back.

The Dooley hydrangea has large mophead flowers that will either be blue (in acidic soil) or pink (in alkaline soil) and it reaches a mature size of 3-5 feet tall and wide.

Plant the Dooley hydrangea in morning sun or partial shade with protection from the hot afternoon sun. The soil should be loose, rich in organic matter and well-drained. Hydrangeas should be watered regularly during dry spells in the spring and summer. Wilting in the heat of the late afternoon is common even for hydrangeas that have sufficient water. Avoid overwatering by checking the soil, which should dry out some between waterings. Excessive moisture around the roots or poorly draining soil can cause root rot problems.

Try to plant hydrangeas in locations where they won't have to be repeatedly pruned to keep in bounds. Some of the most gorgeous hydrangeas are those that are pruned only once every few years. Most Hydrangea macrophyllas should be pruned just as they finish flowering.

All hydrangeas are susceptible to deer browsing. If you have a deer problem, plant your hydrangeas in a protected location inside a fenced area or close to the house. You may need to use deer repellents if the problem is severe.


Past Pike's Picks:
June 3, 2006: Blushing Bride Hydrangea
May 27, 2006: Don's Dwarf Southern Wax Myrtle
May 20, 2006: Tangerine Beauty Crossvine
May 13, 2006: Variegated Solomon's Seal
May 6, 2006: Cinnamon Fern
April 29, 2006: Slender Hinoki False Cypress
April 22, 2006: Midnight Flare Azalea
April 15, 2006: Eastern Snowball Viburnum




Copyright © 2007 by Theresa Schrum - All rights reserved
No part of this website may be reproduced without the expressed written permission of Theresa Schrum