Plant Profile: Variegated Solomon's Seal
Polygonatum odoratum 'Variegatum'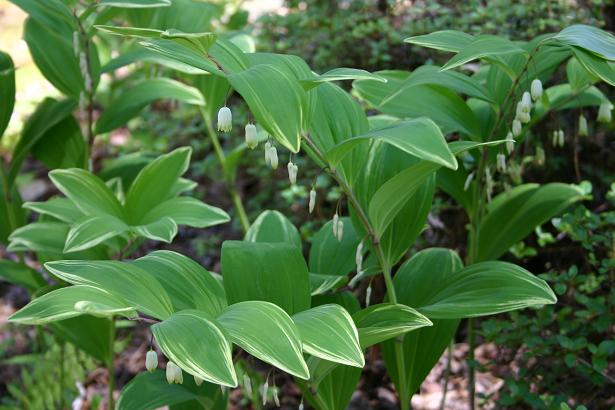 Without a doubt, this is one of my favorite shade perennials and I have at least two dozen planted in various locations in my shade garden.

Variegated Solomon's Seal emerges in late March with bold variegated green with white-edged leaves on red stems eventually reaching a height of 18-24 inches tall and wide. Shortly thereafter, delicate white bell-like flowers will bloom hanging below the leaves. The flowers are somewhat hidden by the foliage, but are showy nonetheless. The foliage remains crisp and true to color even in hot, dry weather until fall. In late September the foliage will change over to a gorgeous butter yellow. This is one of the few perennials that has showy fall color and about the only perennial with showy fall color for shade.

Plant Variegated Solomon's Seal in partial to full shade in loose, well-drained soil. For those with deer problems, Variegated Solomon's Seal can be used in place of Hostas. It makes a great companion to Ferns, Hellebores, Coral Bells, Astilbe and Foam Flower.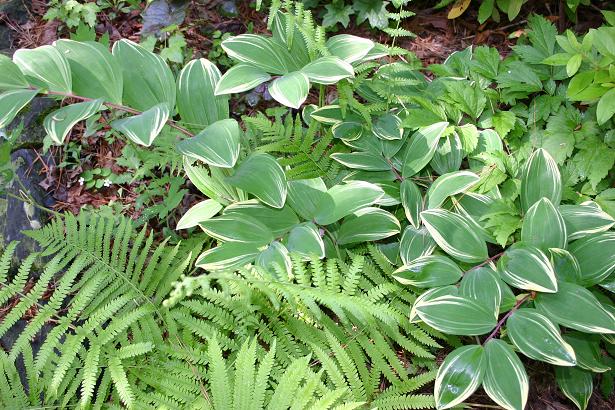 Copyright © 2013 by Theresa Schrum - All rights reserved
No part of this website may be reproduced without the expressed written permission of Theresa Schrum