Georgia Gardener Newsletter Cool Plant: May 15, 2008
Sweet Kate Spiderwort
Tradescantia x andersoniana 'Sweet Kate' OR
Tradescantia (Andersoniana Group) 'Sweet Kate'



Species Native Range: Hybrid of garden origin
Hardiness: USDA Zones 4-9
Mature Size: 12-18 inches tall and wide
Exposure: Full sun to partial shade
Soil: Rich to average, moist or boggy
Drought Tolerance: Excellent
Ease of Culture: Easy

I must admit that I'm a sucker for almost any plant with blue flowers (except invasives). So one day about six years ago, I spotted a group of wild spiderworts (Tradescantia virginiana) along the road just before a mowing crew was about to cut them down, flowers and all, to 3 inches tall. I managed to get about 3 plants before the rest were chopped down. Moved to the safety of my garden they flourished and spread quite eagerly to where I now have about 100 in my perennial bed and back woodland garden. Although I love my wild spiderworts, they're somewhat tall (36") and look a bit tattered after blooming.

About two years ago, I happened upon Sweet Kate spiderwort and the differences between it and the wild species were astounding. Sweet Kate is a compact plant only growing about half the size of my others, the strap-like half-inch foliage is a bright chartreuse and the 1-1.5 inch flowers are a dark violet-blue. The contrast between the folage and the flowers is hard to miss. As with all spiderworts, the flowers of Sweet Kate last only one day opening in the morning and closing by the afternoon. Plants that are grown in partial shade will have the flowers remain open later as will the flowers of plants in full sun on a cloudy day. Even though each flower only lasts a day or less, they are produced in groups of about 10-20 over a period of several weeks in May through early July. If pruned back once the blooming season is over, the plants often rebloom in the late summer or early fall. Small songbirds are attracted to the seed heads of the wild spiderworts. Sweet Kate, being a hybrid appears to produce no seeds.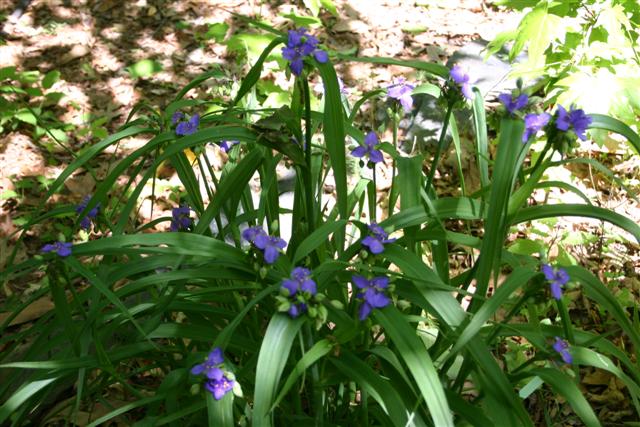 Wild Virginia Spiderwort (Tradescantia virginiana)

Grow Sweet Kate spiderwort in full sun to partial shade. I find that the foliage has better color in full sun. The plant tolerates a wide range of soil conditions including moist to boggy. Plant Sweet Kate spiderwort in a perennial or wildflower bed or mixed with other sun-loving shrubs, perennials and annuals. Good companion plants include: roses, irises, daylilies, coreopsis, coneflowers, shasta daisies, etc.

Note: The newly emerging foliage of spiderworts is often browsed upon by deer and rabbits in the early spring. However, this seems to be short-lived in my garden and does not affect the flowering or foliage by the time the blooming season arrives.


Sources
Although I have seen this plant for sale at these nurseries, I cannot guarantee that they will have it in stock at the time of this publication.

Randy's Perennials: Lawrenceville
Plant Delights Nursery: mail order
Pike Nurseries
Buck Jones Nursery: Grayson & Woodstock






Copyright © 2008 by Theresa Schrum - All rights reserved
No part of this website may be reproduced without the expressed written permission of Theresa Schrum