Georgia Gardener Newsletter Design Tip: May 14, 2009
Need help?
Check out our Services.
These plantings are well below the height of the box

Although mailbox plantings are often jokingly referred to as shrines to the postal service by many landscape professionals, I see them as an opportunity to create a mini garden with high visibility that everyone can enjoy. They also tend to soften the look of the box and associated posts, etc.

Soil

Usually some of the worst soil is found near the mailbox. Mailboxes sit very close to the driveway and the street. With all that construction, compaction, concrete and traffic, the soil is usually absolutely awful. Add to that any construction materials that remain associated with the box itself (buried posts, cement, etc.). Before planting anything around the mailbox make sure that you have heavily amended your soil so that it's loose, organic and well-drained.

Location, Location, Location

Most mailboxes sit in open sunny areas and are located about as far as possible from the nearest spigot. Dogs often walk nearby so you have THAT problem to deal with. If that wasn't enough, underground utilities are sometimes located close by so it's a good idea to get your utilities marked before you start working in this area. A simple call to 8-1-1 and you can have your utilities marked for free.

Choosing Plants

Keep in mind your location: hot, sunny and the distance to the spigot. Make sure to choose plants that are drought tolerant and have a long season of interest. Because mailbox plantings are probably your closest landscaping to the street, they are seen by everyone. This is a good location to mass seasonal annual plantings that will give you the biggest bang for your gardening dollar. That's not to say that the entire bed should be annuals. Most well-balanced mailbox plantings will have one or more shrubs, perennials and the ubiquitous vine on the box itself. The size of the area will determine how many of these more permanent plantings you can have. As for the vine, any number of clematis varieties seem to be the vine of choice. However, I'm somewhat partial to annual or tropical vines such as hyacinth bean or mandevilla. Just remember to keep larger vines in check with frequent pruning.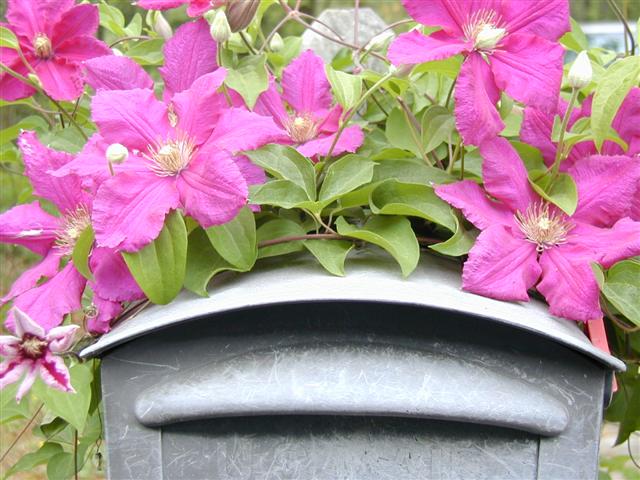 Clematis vine over the top of the mailbox

Some good tough annuals and perennials for sunny mailbox areas include: low-growing lantana, verbena, salvia*, portulaca, purslane, blue daze, lavender*, rosemary, catmint*, lamb's ears*, iceplant, dianthus, dahlias, etc.

Some good tough shrubs for sunny mailbox areas include: smaller roses*, low-growing golden junipers or cypresses*, dwarf spiraeas, dwarf abelias*, etc.

*For the convenience of postal workers, don't plant larger plants that may interfere with the access to the box, those with thorns close to the mailbox door or those taller plants (mailbox door height) that attract bees.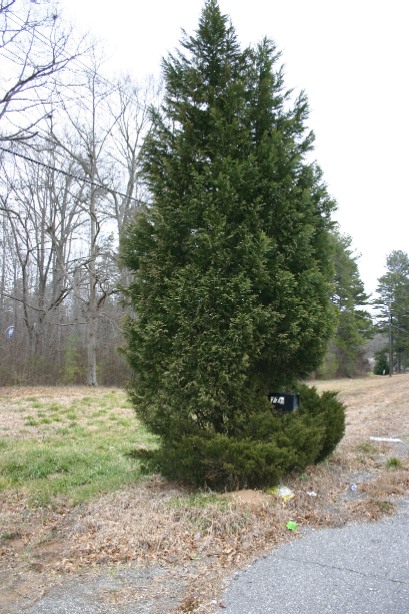 A Leyland Cypress is a really bad choice

Some Final Thoughts

Usually, the most common mistake I see with mailbox plantings is the use of plants that are much too large for the location. Always read the plant tags when considering plants for confined garden spaces. Nothing is worse than to have to constantly prune a plant to keep it in bounds. And the plants don't like it either.





Copyright © 2009 by Theresa Schrum - All rights reserved
No part of this website may be reproduced without the expressed written permission of Theresa Schrum