Georgia Gardener Newsletter Design Tip: May 4, 2006
Hydrangeas, Hydrangeas!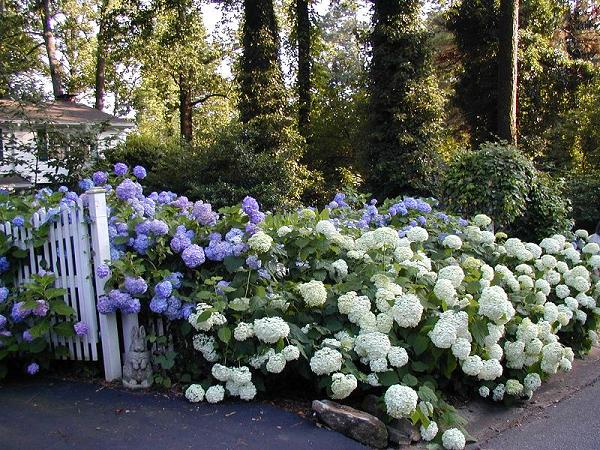 Hydrangea Combination:
The white-flowering hydrangeas in the front are the very popular Annabelle Hydrangeas. Behind them are Mophead Hydrangeas, perhaps the cultivar Penny Mac named for Penny McHenry.

Hydrangeas have come a long way since the days of my grandmother's garden in Savannah. In addition to Annabelle (which is actually a cultivar of our native Hydrangea arborescens), we have many new varieties of the old-fashioned French Hydrangea (mophead), native Oakleaf Hydrangea and the late-blooming Hydrangea paniculata.

While most hydrangeas prefer to grow in partial shade and be planted in rich, well-draining soil, some seem quite tolerant of full sun and can therefore be used in practically any garden. The cultivars of the late-blooming Hydrangea paniculata seem particularly well-adapted to full sun.


Smooth Hydrangea: Hydrangea arborescens (Georgia native)
This hydrangea produces white flowers that are either mophead or lacecap beginning in early June. Hydrangea arborescens blooms on new growth and can be pruned during the fall and winter without removing next year's flowers. Blooming is not harmed by late frosts making this a great hydrangea for colder climates.

Common Cultivars: Annabelle (mophead), Dardom (lacecap), Hills of Snow (lacecap)


French Hydrangea: Hydrangea macrophylla (old-fashioned mophead)
Once the standard pink or blue mophead hydrangea of the old South, extensive work has been done on this species of hydrangea producing numerous cultivars that have a wide range of flower color and style, including mophead and lacecap. Dwarf varieties and repeat bloomers have also been developed. New varieties are constantly being introduced.

Common Cultivars: Nikko Blue (mophead), Dooley (mophead), Blue Wave (Lacecap), Endless Summer (repeat blooming mophead), Penny Mac (repeat blooming mophead), Sister Teresa (white mophead), Lady in Red (pinkish-red lacecap).

These hydrangeas should be pruned only if needed right after they finish blooming. Pruning in the fall or winter will diminish blooming the following year. Those cultivars that repeat bloom will produce flowers on both old and new growth, but are still best pruned after the main summer flush.


Oakleaf Hydrangea: Hydrangea quercifolia (Georgia native)
This large hydrangea produces large upright stalks of white flowers that will fade from pink to straw. Called the oakleaf hydrangea because of its large oak-like leaves, Hydrangea quercifolia blooms on old growth and should be pruned only if needed right after flowering.

Common Cultivars: Alice, Snowflake, Snow Queen, Pee Wee (dwarf)


Panicle Hydrangea: Hydrangea paniculata
This hydrangea produces large upright stalks or mopheads of white flowers that will fade from pink to straw. This hydrangea and its cultivars are the last to bloom often from late summer into early fall. Hydrangea paniculata blooms on new growth and can be pruned in the fall or winter without removing next year's flower buds. Late frosts will not damage the flowers making this another choice for colder climates. This hydrangea seems very tolerant of full sun.

Common Cultivars: Grandiflora, aka Pee Gee (mophead), Tardiva (upright stalks), Limelight (upright stalks with a hint of green)

For more information on the many varieties of hydrangeas, visit this website or the web site of the American Hydrangea Society.




Copyright © 2007 by Theresa Schrum - All rights reserved
No part of this website may be reproduced without the expressed written permission of Theresa Schrum