Georgia Gardener Newsletter Design Tip: April 3, 2008
Cuttables: Plants for a Cutting Garden


Peony

I've often thought that cutting flowers to bring them indoors was somehow damaging the garden. Since I like to be outdoors, I wanted to the flowers of my garden in situ. However, I've started to change my mind especially as I have less time to simply wander through my garden these days. I started the practice a few years ago by bringing in hardy gingers with their heavenly gardenia-like aroma.

For your arrangements, you can cut more than just flowers. Mix in some greenery, berries, seed heads or other attractive plant parts from your garden.

Color and Texture (An Oversimplification)

If you are a bit more serious about flower arranging, you must remember several points of design - these being color and texture. We all remember the color wheel from our elementary school art classes: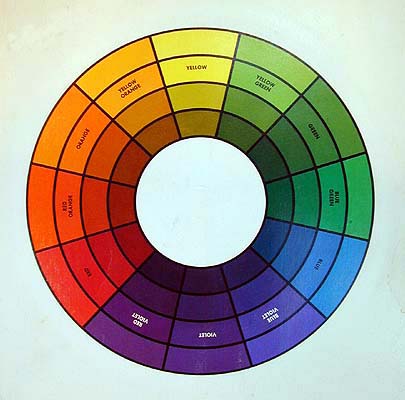 Colors that are opposite of each other are complementary and will blend together nicely to enhance each other. White (or gray) can be used to brighten and black to darken your arrangements. Using coarse or finely textured foliage, berries as well as large and small flowers together will also add interest. Don't forget that your arrangements are three dimensional and as with containers, you will want tall features (flowers or foliage), middle features and something that is low or drapes over the sides. Personally, I just throw the flowers and whatever into the vase (sometimes jar) in a manner that suits me and voila! I'm done.

Some Helpful Hints

Remember, the flowers you're cutting from your garden have been, well, outside. They may be carrying hidden insects, dust or be coated with any chemicals you recently used. It's not a bad idea to gently wash the flowers, foliage or whatever before you bring them inside. If it's summer, try to harvest your cuttings during the cooler parts of the day and bring a bucket of water to place them in immediately. Always use a sharp set of pruners to not only lengthen the life of your cutting but also to preserve the health of the rest of the plant.

Below are some flowers that are great for cutting alongside a good companion.


| | |
| --- | --- |
| | |
| Indian Summer Rudbeckia | Liatris |

From a design standpoint, we not only have flowers that have complementary colors, but we have a flat, bold flower and an upright cluster of small flowers. Mix any type of greenery and you have a simple arrangement.


| | |
| --- | --- |
| | |
| Purple Coneflower | Shasta Daisy |

Although these flowers have the same shape, they are quite different in color. To add a vertical component, I would might add a stalk of light pink Astilbe flowers.


| | |
| --- | --- |
| | |
| Foxglove | New Gold Lantana |

Once again, we have complementary colors, a vertical component with bold flowers and a low/draping plant with small flowers. A nice splash of white such as the shasta daisy above would make a nice arrangement.


| | |
| --- | --- |
| | |
| Swamp Sunflower & Mistflower | Goldenrod |

Some late season flowers that can be used in arrangement. Fear not the use of goldenrod. It doesn't cause allergies.

Foliage for Cut Arrangements

Don't forget the greenery in your arrangements. Any plant that has interesting foliage can be used as a backdrop to flowers that you use.


| | |
| --- | --- |
| | |
| Bronze Fennel | Autumn Fern |
Berries for Cut Arrangements
| | |
| --- | --- |
| | |
| Nandina* | Beautyberry |

Using ornamental berries is a great way to liven up arrangements. For invasive plants(*) such as nandina and mahonia, it's a great way to keep the plants from producing unwanted seedlings not only in your yard but in the landscapes of others and the natural areas beyond. Just make sure to remove all the berries and when finished wrap them in plastic bags and discard them in the trash.

Cut Flowers by the Season

Here are some common flowers, berries, etc. that can be used for cutting by their season.

Winter: winter daphne, camellia, hellebore, early daffodils and other bulbs, mahonia* stems/flowers, holly stems/berries, nandina* stems/berries Harry Lauder's walking stick contorted stems with catkins, bare curly willow branches, evergreen ferns, ornamental cabbage/kale, etc.

Early spring: azalea, loropetalum, forsythia, saucer magnolia, Armand's clematis stems/flowers, leucothoe stems/flowers, iris, etc.

Mid spring, late spring and summer have too many flowers to even partially list.

Fall: obedient plant, goldenrod, mistflower, lycoris, beautyberry berries, mahonia* stems/berries, hardy ginger (Hedychium), etc.

Controversial Cuttings

In the floral trade, there are some plants which are used as greenery to which I strongly object. Our native evergreen ground pine (Lycopodium spp.) was almost collected to the point of extinction in the early part of the 20th century. There are still some catalogs that offer this viny groundcover for decoration during the Holidays. This plant has a specific habitat it needs in order to survive, does not grow quickly and is, for all intents and purposes, impossible to transplant. Please don't patronize catalogs that offer it or collect it yourself.

The second plant that I must protest to being used is our native galax (Galax spp.). This evergreen groundcover has leathery round, serrated leaves that are commonly used in floral arrangements. This plant is not grown commercially but instead is wild-harvested (legally and illegally) from public lands in the Appalachians. Once again, this plant only grows in particular habitats and is slow to spread. If you do floral arrangements either as a hobby or professionally, please do not use this plant. Use English ivy*. We have too much of that anyway.


| | |
| --- | --- |
| | |
| Ground Pine | Galax leaves in professional arrangement |

Copyright © 2008 by Theresa Schrum - All rights reserved
No part of this website may be reproduced without the expressed written permission of Theresa Schrum