Georgia Gardener Newsletter Cool Plant: March 20, 2008
Florida Flame Native Azalea
Rhododendron austrinum



Species Native Range: Gulf Coast of MS, AL, GA & FL
Hardiness: USDA Zones 6-9
Mature Size: 8-15 feet tall x 8-10 feet wide
Exposure: Morning sun or partial shade
Soil: Rich, moist but well-drained
Drought Tolerance: Good/very good
Ease of Culture: Easy

Along my driveway and right next to my Piedmont native azalea sits my Florida flame native azalea. And although orange and pink don't go together well from a design aspect, I love the fact that these two azaleas sit side by side. Their blooming is pretty close together and in some years they are at peak simultaneously, but I don't care. Since both are highly fragrant and the aroma is similar, I get a double dose.

In early April as their leaves appear, the Florida flame native azaleas will begin to bloom with large trusses of orange to yellow 1-1.5 inch highly fragrant flowers with long stamens. This azalea's native range is along the gulf coast of Mississippi, Alabama, Georgia and into northern Florida, so you will not see these growing wild in north Georgia as you would the Piedmont native azalea, although it's just as hardy.

There can be some significant color differences within this species as shown below by the two mature specimen plants I've seen around town: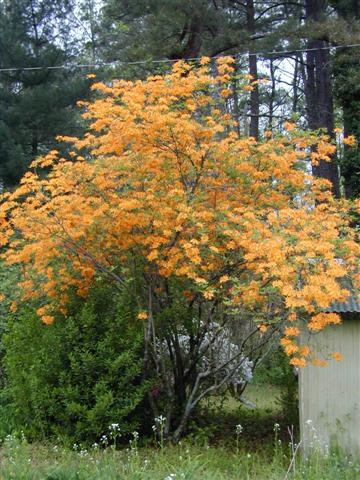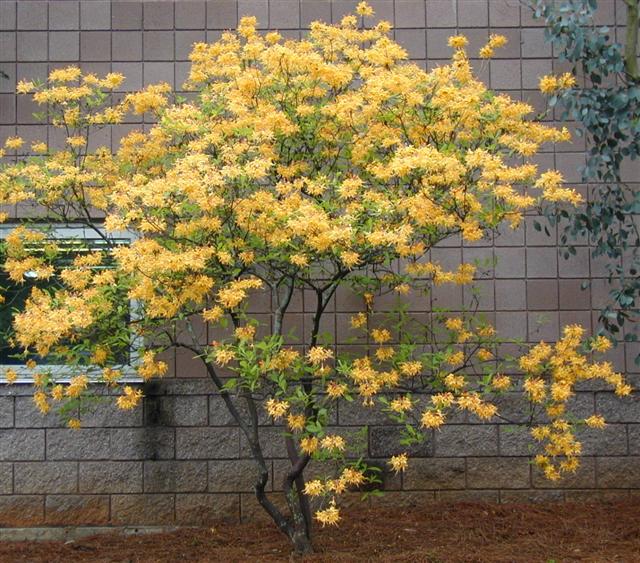 Like the Piedmont native azalea, the Florida flame native azalea is easy to grow and is another good choice to begin to learn the cultivation of native azaleas of which there are approximately 15 different east coast species.

Grow Florida flame native azaleas in morning sun or partial shade all day. They do need some sun in order to bloom but definitely need protection from the hot afternoon sun. The soil should be rich in organic matter (not clay), loose and well-drained. All native azaleas bloom on "old wood" developing their flower buds the summer prior to blooming. The Florida flame native azalea is one of the most heat tolerant of the native azalea species.

Good companion plants include: hellebores, ferns, etc.

If you want to learn more about all of our native azaleas, check out this excellent site by Donald Hyatt. It's the best single site on native azaleas I've ever seen.


Sources
This plant can be purchased from nurseries that carry a wide range of native plants:

Nearly Native Nursery: Fayetteville
Georgia Native Plant Society Nursery List
Lazy K Nursery: Pine Mountain & mailorder

Note: Lazy K Nursery is (as far as I know) the largest grower of native azaleas in the country.





Copyright © 2008 by Theresa Schrum - All rights reserved
No part of this website may be reproduced without the expressed written permission of Theresa Schrum