Georgia Gardener Newsletter Cool Plant: March 6, 2008
Piedmont Native Azalea
Rhododendron canescens



Species Native Range: Southern U.S.
Hardiness: USDA Zones 6-9
Mature Size: 8-15 feet tall x 6-8 feet wide
Exposure: Morning sun or partial shade
Soil: Rich, moist but well-drained
Drought Tolerance: Good/very good
Ease of Culture: Easy

Every time I pull into my driveway, I become filled with eager excitement as I pass by one of my Piedmont native azaleas. This plant is covered with flower buds - more than I have ever seen on this shrub. In fact, many of my native azaleas seem to have more buds than in recent years. I can only theorize as to the reason (at the end).

In early April as their leaves appear, the Piedmont native azaleas will burst into color as their large clusters open to reveal 1-1.5 inch pink to white highly fragrant flowers with long stamens. The aroma is that of honeysuckle and can be detected from some distance away. If you pass by undistrubed hardwood forests, you should be able to see these blooming in the wild as they are one of the most common native shrubs in the upper third of the state.

Native azaleas, unlike their Asian cousins, are not evergreen and thus lose their leaves in the fall. Also, they tend to be upright, multi-trunked large shrubs with a habit that somewhat resembles a crape myrtle. The Piedmont native azalea is surprisingly easy to grow and is a good choice to begin to learn the cultivation of native azaleas of which there are approximately 15 different east coast species. As a member of the Georgia Native Plant Society, I've rescued dozens of these plants (some quite large) and have never lost a single plant. Despite the delicate appearance, they are quite durable.

Grow Piedmont native azaleas in morning sun or partial shade all day. They do need some sun in order to bloom but definitely need protection from the hot afternoon sun. The soil should be rich in organic matter (not clay), loose and well-drained. All native azaleas bloom on "old wood" developing their flower buds the summer prior to blooming. During winter, the large flower buds are very noticeable at the ends of the branches: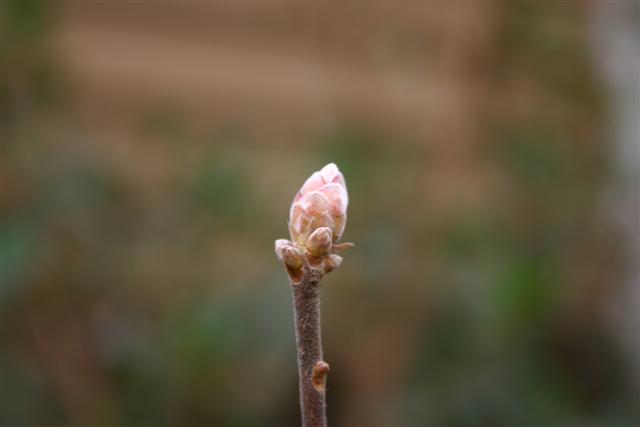 The large center flower bud surrounded by smaller leaf buds

The Piedmont native azalea is one of the first native azaleas to bloom. Other native azaleas will bloom sequentially through the spring culminating with the plumleaf native azalea (Rhododendron prunifolium) which is the last to bloom with its bright red flowers in July.

Good companion plants include: ferns, woodland phlox, trilliums, Virginia bluebells, celandine poppies, early blooming bulbs, etc.

I think this year's success and abundance of blooms may be due to my "drought protection plan" that I implemented last summer. I increased the amount of organic mulch in all of my beds which helped protect the roots from getting too dry as well as increased the soil's ability to absorb water.

If you want to learn more about all of our native azaleas, check out this excellent site by Donald Hyatt. It's the best single site on native azaleas I've ever seen.


Sources
This plant can be purchased from nurseries that carry a wide range of native plants:

Nearly Native Nursery: Fayetteville
Georgia Native Plant Society Nursery List
Lazy K Nursery: Pine Mountain & mailorder

Note: Lazy K Nursery is (as far as I know) the largest grower of native azaleas in the country.





Copyright © 2008 by Theresa Schrum - All rights reserved
No part of this website may be reproduced without the expressed written permission of Theresa Schrum