Georgia Gardener Newsletter Cool Plant: February 5, 2009
Red Twig Dogwood
Cornus sericea (syn. C. stolonifera)
Need help?
Check out our Services.

We're also offering a 10% discount
for February appointments

Species Native Range: Mid-Northern U.S. & Canada
Hardiness: USDA Zones 2-8
Mature Size: 6-8 feet tall and wide
Exposure: Full sun to light shade
Soil: Moist to wet, occasional flooding
Drought Tolerance: Good
Ease of Culture: Easy

This unusual dogwood is unlike the spring-flowering Florida dogwood trees seen so commonly in the south. The red twig dogwood is a shrubby plant that grows wild along streams and in low moist areas from Alaska through Canada into the Rocky Mountain states and the lower midwest. In the mid to late spring, clusters of creamy-white flowers bloom at the ends of the branches. The most striking characteristic of this plant is the bright crimson red bark which gives the plant great winter interest.

When given a backdrop of evergreen plants or if we're lucky enough to have snow, this plant really stands out in the winter garden. It also does well in containers. Tolerant of wet soils and occasional flooding, it makes for a great plant around ponds or where drainage is slow. In moist to wet soil, this plant may sucker to produce a small colony.

To obtain the best bark color, plant the red twig dogwood in full sun. Prune older stems immediately after flowering in the mid spring to promote new branch growth as younger stems have redder bark. Good companion plants include summersweet (Clethra alnifolia), Virginia sweetspire (Itea virginica), swamp sunflower (Helianthus angustifolius) and other sun-loving, wet soil plants.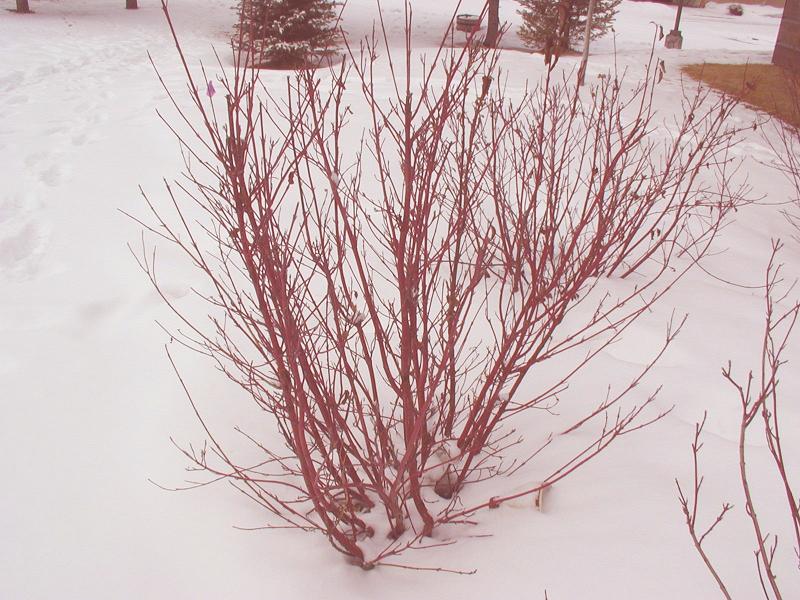 In snow, the red twig dogwood is hard to miss.

Sources
Due to the popularity of this plant in the winter, it is often widely available.





Copyright © 2009 by Theresa Schrum - All rights reserved
No part of this website may be reproduced without the expressed written permission of Theresa Schrum