Georgia Gardener Newsletter Cool Plant: January 24, 2008
Seersucker Sedge
Carex plantaginea



Native Range: Eastern U.S. & Canada
Hardiness: USDA Zones 4-8
Mature Size: 12 inches tall x 12-18 inches wide
Exposure: Partial to full shade
Soil: Moist to wet with lots of organic matter
Drought Tolerance: Very good
Ease of Culture: Easy

As garden plants, the native sedges have, until recently, been largely ignored. I think this is very unfortunate because the number of plants in this genus (Carex) number in the thousands with several hundred (or more) native to the United States. Quite a few of them are very attractive and will grow nicely in a landscape environment.

Seersucker sedge gets its name from the puckering light evergreen leaves which resemble seersucker fabric. Most often this plant is found from the mountains of northern Georgia to Canada. However, it does remarkably well even in the heat of the Piedmont and Coastal Plain. I have been growing this plant in my woodland garden for several years.

In spring, seersucker sedge sends up very thin 12-15 inch stalks topped with flowers that resemble tufts of cotton. The stalks themselves have a curious purple/green banding which is subtle but noticeable.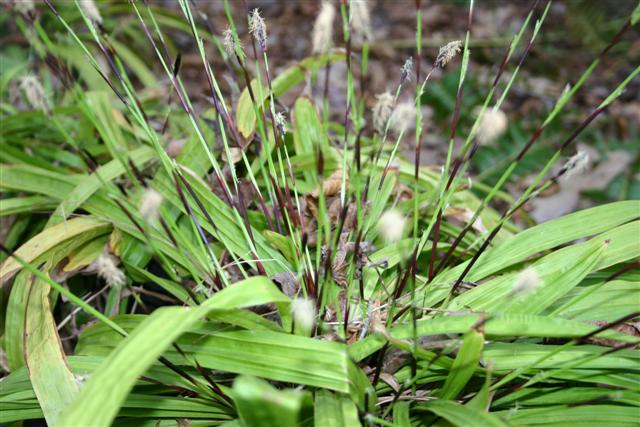 Grow seersucker sedge in partial to full shade in highly organic soil. If the soil remains moist to slightly wet, the clumps will expand rather nicely (you may even get some seedlings) which can be divided in the spring. In dry soil the plant will still look good but will expand much more slowly. Good companion plants include foamflower (Tiarella spp.), ferns, solomon's seal, trilliums, hostas, etc. Seersucker sedge looks great in containers that will be in a shady location.
Sources
This is a specialty plant usually found at nurseries that specialize in native plants or by mail order.

Randy's Perennials: Lawrenceville
North Creek Nursery: mail order
Sunlight Gardens: mail order

Or check the sources listed with the Georgia Native Plant Society.





Copyright © 2008 by Theresa Schrum - All rights reserved
No part of this website may be reproduced without the expressed written permission of Theresa Schrum